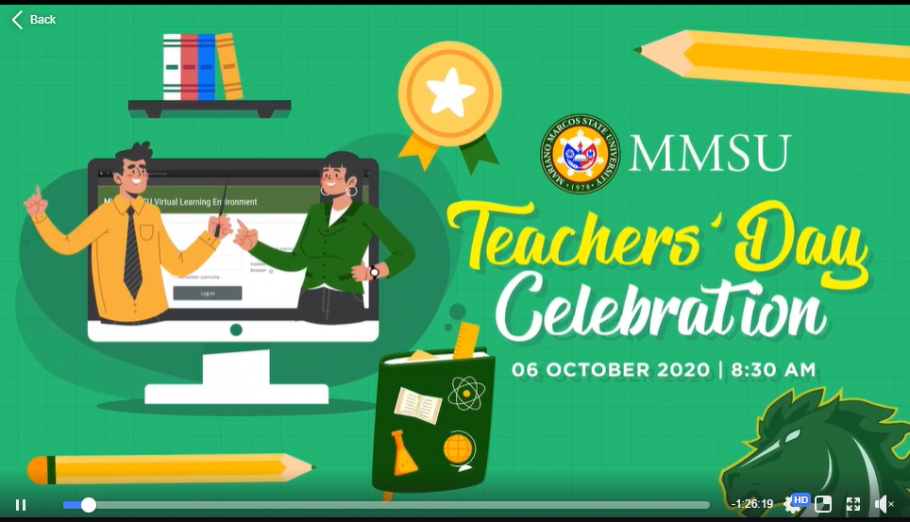 MMSU celebrates teachers' day online
"Through your creativity and dedication, you have defined the new Mariano Marcos State University (MMSU) – a resilient institution that is ever-dynamic and evolving in the face of change. Truly, you embody the kind of teachers who lead in crisis and reimagine the future."
This statement was crystallized by University President Shirley C. Agrupis as she addressed the MMSU faculty members in the University's Virtual Teachers' Day Celebration held today, October 6.
Initiated by the MMSU president, the virtual activity served as the university's way of commending the efforts and sacrifices of its mentors who remained committed to their vocation amid the COVID-19 crisis.
During the program, Dr. Agrupis lauded the MMSU teachers who embraced the demands of the new normal by attending webinar trainings, crafting learning materials in flexible learning mode, and mastering the university's Virtual Learning Environment (mVLE).
Likewise, the university president expressed gratitude to the faculty who helped their students cope the adverse effects of the pandemic through the MMSU Saranay Against COVID-19 program.
"It may not be tantamount to the sacrifices you have made, but through this [virtual celebration], I hope you realize how significant your efforts are," she expressed.
She, too, assured that the MMSU faculty will remain at the heart of teaching and learning process as the university embarks on investing on more advanced technology and on transforming itself into a smart campus.
For her part, Dr. Prima Fe R. Franco, Vice President for Academic Affairs, encouraged the faculty members to "reflect on how we have become teachers and how have we been performing, and recapacitate ourselves."
Meanwhile, Dr. Marlina L. Lino, president of the MMSU's Faculty Association, Inc., led the distribution of rainforest seedlings as tokens of gratitude to the faculty members. She said the seedlings symbolize the teachers' passion in nurturing their students even in the days of uncertainty.
Moreover, the virtual program also involved cultural presentations such as the "Mazurka de Jarna", a traditional dance performed by the MMSU Faculty Cultural Troupe; short film "Online Class" produced by selected MMSU students; and "Isang Mundo, Isang Awit" sang by the MMSU Faculty Chorale.
The successful event was facilitated by a committee headed by Prof. Rowell C. Tagatac, cultural development chief.
Viewers of the online celebration also greeted the faculty members. The online event has already reached around 8,300 views, more than 700 likes, 221 comments, and 96 shares as of this posting. – by Daniel P. Tapaoan, Jr. (StratCom)

Gallery