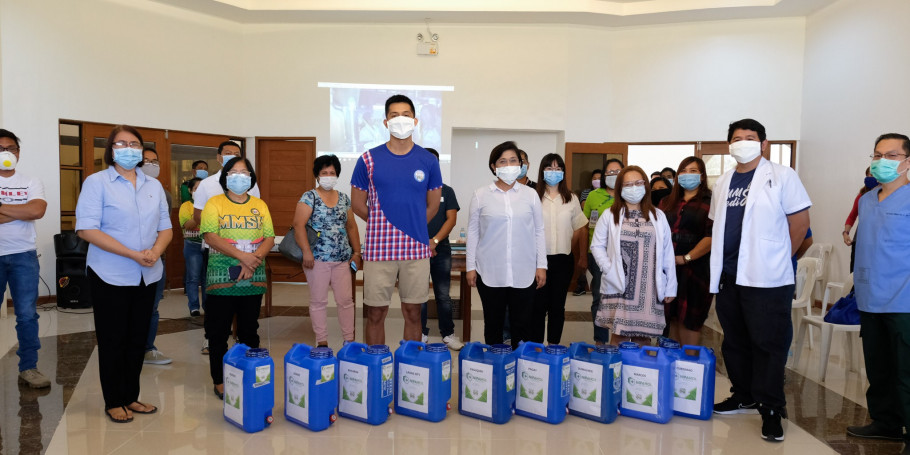 Ilocos Norte LGUs, churches get alcohol ration from MMSU
By REYNALDO E. ANDRES
Representatives of the 21 municipalities, two cities, and 30 churches in Ilocos Norte each received their first 20 liters of alcohol ration, courtesy of the National Bio-Energy Research and Innovation Center (NBERIC) of the Mariano Marcos State University (MMSU) on Friday, March 20.
This is to help their front-liners contain the spread of the coronavirus disease (Covid-19).
The volume will be distributed to personnel who deliver basic services to their constituents, MMSU President Shirley C. Agrupis said.
At present, some 1,260 liters of 70-percent ethyl alcohol from nipa sap were given to various sectors in the province, among them MMSU students and staff, from the start of the government-imposed enhanced community quarantine throughout Luzon on March 16.
"We may not supply the alcohol needs of all sectors in the province, but at least this development effort will augment the dwindling supply of the product," Agrupis said.
She and Ilocos Norte Governor Matthew Marcos Manotoc led the staff of the NBERIC in distributing the product in one of the center's offices, which was witnessed by personnel of the Mariano Marcos Memorial Hospital and Medical Center in this city.
Manotoc said he was happy because through this, "we can help our front-liners in the province who do their job to mitigate the spread of the deadly virus."
"So far, we want to maximize the production of alcohol at NBERIC trying to look further how we can support this effort in terms of the raw material it needs, especially molasses," he said.
Agrupis is confident the university would continue its more than 10 years of research and development activity of producing bio-ethanol from different sugar sources, such as sweet sorghum, sugarcane, coconut sap and, most recently, nipa.
Amid the Covid-19 pandemic, the university has been redirecting its efforts to help address the dwindling supply of 70-percent ethyl alcohol in Ilocos Norte, which is being used as a disinfectant and antiseptic to help stop the spread of the disease. (StratCom)
Gallery