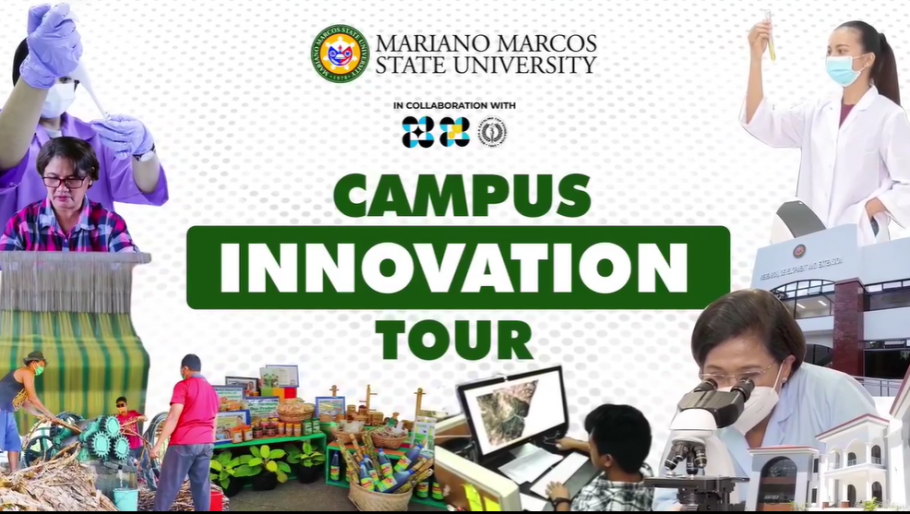 Campus tour bares MMSU innovations
By Daniel P. Tapaoan, Jr.
Making innovation work toward sustainable, inclusive, and transformative development.
Various research initiatives and generated technologies of the Mariano Marcos State University (MMSU) were showcased in the virtual campus innovation tour held today, February 23.
Livestreamed through the Facebook page of the University (@MMSUofficial), the campus tour featured the MMSU's research centers and their corresponding technologies and initiatives: National Bioenergy Research & Innovation Center (NBERIC); Tuklas Lunas Development Center (TLDC); Garlic Research Center; Regional Research and Training Center for Climate Change Studies; Natural Resources Conservation and Management Center; Regional Center for Innovative Materials in Emerging Applications; and the Humanities, Social Sciences, Communication and Education Research Center.
It also showcased the MMSU's Physical and Natural Resources and the Socio-cultural Landscape, Science and Technology Park, Social Innovations and Partnership Hub, and the Food Processing and Innovation Center.
Moreover, the MMSU campus innovation tour introduced the university's patented technologies, strategic mechanisms in sustaining S&T innovations, as well as, its way forward and future directions.
This event is in collaboration with the Benito and Catalino Yap Foundation (BCYF) and the Department of Science and Technology (DOST) through the Industrial Technology Development Institute (ITDI) and Regional Office I.
University President Shirley C. Agrupis said the virtual tour is the first of its kind in MMSU as part of its commitment to advance S&T through its strong partnership with the DOST and other development agencies through the years.
President Agrupis also thanked the DOST and BCYF "for this opportunity you have given to MMSU as another window for partnership and collaboration." She added that as a home of various regional research centers and consortia, MMSU endeavors to strengthen its S&T, research and innovation agenda in order to be more responsive to the calls of time.
BCYF Executive Vice President Anton S. Yap said the innovation campus tour is also in line with the Innovation Month Celebration in the month of February, adding that the agency accepted submissions from various schools and industries for this event this year.
He said the campus tour also aims to provide a platform for experts and the general public to share ideas and advocacies, and to highlight the roles of innovation, social enterprises, and corporate social responsibility played by the institutions in development.
DOST Secretary Fortunato T. Dela Peña said his agency, through the ITDI, welcomes research and development collaborations and partnerships in industries, academe, small and medium enterprises, and other stakeholders to develop various innovative technologies.

The Facebook livestream of the event garnered more than 21,000 views, 2,500 likes, 3,300 comments, and 1,100 shares as of this posting.
ITDI is one of the research and development institutes of DOST focusing on five major areas: food processing, material science, chemicals and energy, environment and biotechnology, and the packaging technology.
On the other hand, the BYCF, formerly known as the Catalino D. Yap Foundation, was established in 1993 to help the common good through the establishment of its Corporate Social Responsibility (CSR) Research Institute (CRI), Institute for Social Enterprise and Development (ISED), and Institute for Policy Studies (IPS). (StratCom)

Gallery