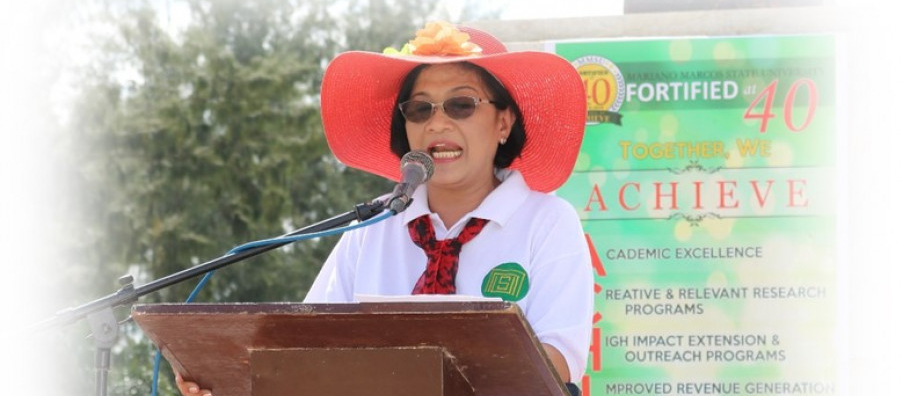 "Be inspired by Ruby" - SCA
Ruby, a birthstone that symbolizes 40 years, is also the symbol of love, energy, passion, and power – making such a good symbol of powerful feelings. Thus, MMSU employees must be inspired by its representation to become more successful in 2018.
This was the message of Dr. Shirley Agrupis to the MMSU community during the culminating activity of the Grand Motorcade on January 22. She said that "everyone must not entertain any negative feeling, but let positive feeling conquers our hearts and thoughts to attain the direction of MMSU as a premier state university" in northern Luzon.
Dr. Agrupis urged MMSU constituents to protect ourselves from the negative feelings of others, "we should focus the sunshine and the source of it. In doing so, we will not see the shadow. The yesterday is not ours to recover, but tomorrow is ours to win or lose," she said, adding that negativity is the hindrance to achievement.
After the kick-off activity for the 40th Foundation Anniversary celebration, the president revealed that some P150 million was already included in the university's budget this year as shown in the newly-published General Appropriations Act. The amount will be used to construct the building of the National Bioenergy Research and Innovation Center (NBERIC), which will be located in front of the College of Engineering (COE).
"Because of this additional capital outlay, our dream and vision to see a world-class building in MMSU will now come to reality this year," Dr. Agrupis said .
Gallery