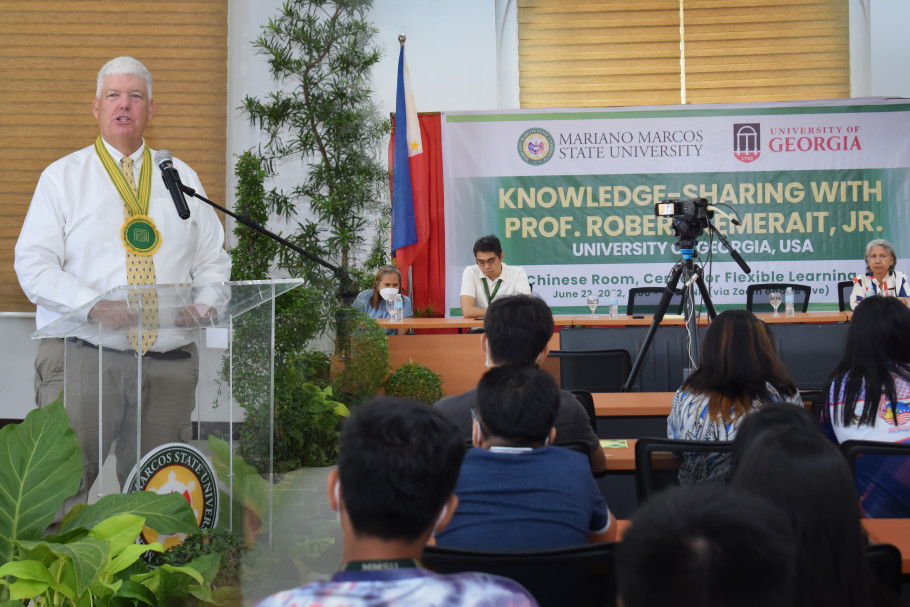 US univ, MMSU hold lecture on crop disease & nematode mng't
By Daniel P. Tapaoan, Jr.
Exhibiting a fluid exchange of resources and expertise, the University of Georgia (UGA) in Georgia, USA and the Mariano Marcos State University (MMSU) conducted a lecture-discussion on crop disease and nematode management today, June 22.
Prof. Robert Kemerait, an extension specialist of UGA's Department of Plant Pathology, served as lecturer in the knowledge-sharing that was held at the MMSU Center for Flexible Learning and livestreamed through the university's Facebook page (@MMSUofficial).
The lecture was attended by agriculture faculty and students of the College of Agriculture, Food and Sustainable Development (CAFSD), university researchers and extensionists, and other interested participants from the local government units in Ilocos Norte.
Prof. Kemerait shared his experiences in developing disease and nematode management strategies that integrate host resistance, cultural practices, and the use of fungicides and nematicides to protect agronomic crops toward growing profits. Nematodes are thread-like roundworms that damage the plant's root system and reduce its ability to absorb water and nutrients.
He also presented the best extension practices and programs of the Georgia university.
In his lecture, he emphasized that uncertainties in the field of agriculture can be managed by forging international collaborative efforts among agencies, venturing on plant breeding and trans-genic crops, forecasting for early detection of plant diseases, training of undergraduate and graduate students, and educating farmers and the public.
MMSU President Shirley C. Agrupis thanked Prof. Kemerait for coming back to the university, saying that his lecture-discussion is a good step in encouraging university faculty and researchers to conduct impactful research on managing plant diseases and nematodes in the future.
PSCA also expressed interest to have a faculty for plant pathology in MMSU, and to make peanut as a university banner commodity by working with the UGA. "We count on you much in expanding our programs," she said.
For his part, MMSU Vice President for Research and Extension Nathaniel Alibuyog said the activity reflects their commitment in helping communities improve agricultural productivity through applicable science-based information and technologies.
Organized by the MMSU Research, Extension, and International Linkages and Partnerships Directorates, the lecture is the first engagement of the two universities after forging a pact in May 2021.
Recently this year, the UGA professor received a Fulbright award to work with the faculty at MMSU and farmers in the northern Philippines to improve disease management and other production practices. In 2019, he, along with Frank and Lorna Nolin, owners of the Frank's Design for Peanuts, donated a shelling machine and shell aspirator to MMSU for its peanut postharvest production and processing venture. (HLY/JVBT, StratCom)

Gallery