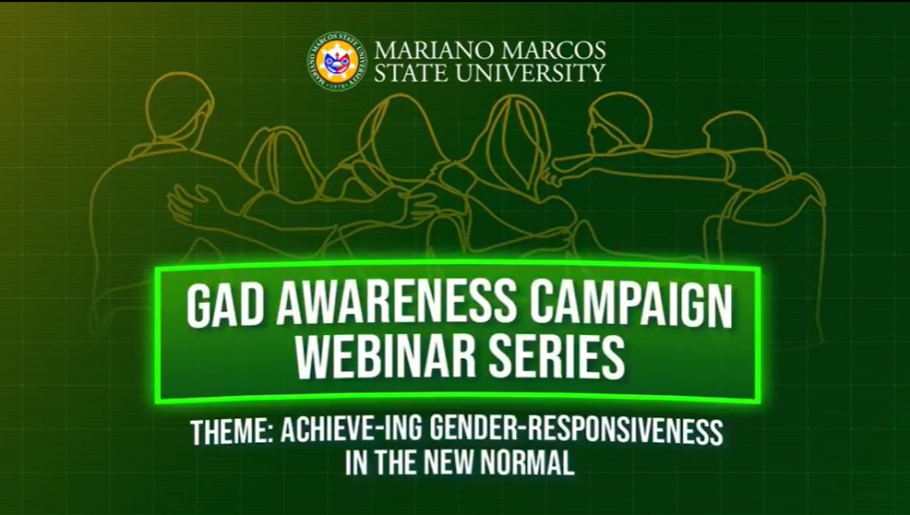 Students learn GAD in webinar series
By Daniel P. Tapaoan, Jr.
Students of the Mariano Marcos State University (MMSU) increased their knowledge on the fundamental concepts and principles of Gender and Development (GAD) after attending a webinar series last January 26-28 and February 1.
Themed "ACHIEVE-ing Gender-responsiveness in the New Normal," the event heightened the students' awareness on the present issues about GAD. It was spearheaded by the Office of Student Affairs and Services (OSAS), with the support of the MMSU GAD Focal Point System (GFPS).
The event clarified the definitions and key points of sex and gender; gender as a social construct; sexual orientation, gender identity and expression; and violence against women and children.
Speakers of these topics were Prof. Jareason C. Fabre of the College of Teacher Education; Prof. Rodel Reyes, Prof. Reindell Owen E. Salvador, and Prof. Lorma Q. Cuadro of the College of Arts and Sciences, respectively. Fabre and Salvador are certified GAD advocates, while Reyes is a registered guidance counselor, and Cuadro is a human rights educator.
Livestreamed using the University's official Facebook page (@MMSUofficial), thousands of MMSU students virtually participated in each session.
Prof. Milagros Barruga, chief of OSAS institutional student programs and services, said the GAD awareness campaign embarks on correcting the prevailing gender biases and breaking confusion of students about gender and sexuality.
"It also envisions to liberate our students from gender stereotypes so that we may create safe space and that everyone can freely express their gender identities without the fear of discrimination, hate, and violence," Barruga explained.
The GAD awareness campaign is conducted annually in accordance with the Commission on Higher Education (CHED) Memorandum Order No.1 series of 2015 which mandates higher education institutions (HEIs) to mainstream gender in all higher education institutions nationwide.
In line with this, the CHED supports GAD activities in all HEIs by allotting five percent fund in each agency for this program. (StratCom)

Gallery