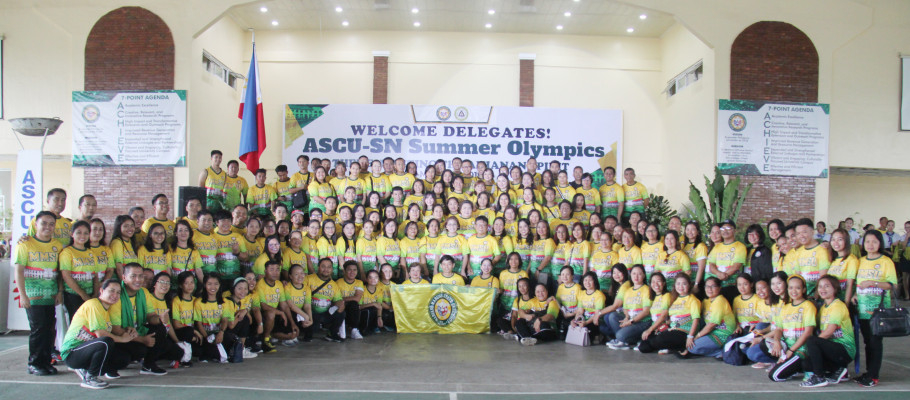 Stallions reap awards in 2019 ASCU-SN summer Olympics
The MMSU Stallions bagged major awards at the close of the 2019 Association of State Colleges and Universities - Solid North (ASCU-SN) summer Olympics held at the university's main campus in Batac City last May 7-10.
The MMSU women's team got the championship award in basketball, and smashed the opposing teams in volleyball landing them first runner-up in the finals.
The men Stallions, too, emerged first runners-up in basketball (45 and below), volleyball, beach volleyball, and lawn tennis doubles. They also placed second runner-up in badminton doubles (bracket 1 and 2) in 45 and below), darts (doubles), and 4x100 meter relay (46 and above).
The Stallions who vied in individual games also prevailed champions in shotput men (49 and below), 6-kilomenter fun-run men and women, and cycling women (45 and below); first runners-up in darts (women), lawn tennis men (46 and above), table tennis men (46 and above), and fun run men. They also finished second runners-up in table tennis men (45 and below), 100 meter run men 46 and above) and women (20 to 30 years old), and 3-kilometer and 6-kilometer fun run women.
On the other hand, the university's Pop Dance Team got its third championship in the competition. James Ventura III also emerged champion in musical contest while the university's team for Pinoy ChaCha contest landed first runner-up.
Sidelights
More than 2,000 delegates from the 23-member state universities and colleges (SUCs) in Regions 1, 2, 3 and the Cordillera Administrative Region joined the summer Olympics.
In her welcome speech during the opening program, MMSU President Shirley C. Agrupis said, "Over the years, we realized there is something more to geography that brings us all together and that is our collective character, common vision and the solid, lasting and invaluable friendships we have forged over the years".
With this year's theme dubbed as "Igniting the Amianan Spirit," she underscored that people in the northern Philippines have strong leadership if one reviews the roster of former Philippine presidents who trace their roots to the so-called "amianan" or solid north.
"I hope that the solid north's common vision and goals in harmonizing various academic and research programs of the member colleges and universities from the four regions will be strengthened," she said.
"Maybe it's high time that we unify our teaching materials and other programs," Dr. Agrupis added, as she expressed excitement over the number of delegates, which doubled compared to last year.
Every year, Dr. Eduardo Bagtang of the Kalinga State University, also the outgoing president of ASCU-SN, said the event is a way of benchmarking activity among its members and learn from the experiences and best practices of each other.
"We hope that we will remain solid and for all employees to be aware about the value of having a healthy mind and spirit," Bagtang said.
Dr. Agrupis also took her oath as the new president of the ASCU-SN at Teatro Ilocandia, while Dr. Max P. Guillermo, president of Tarlac College of Agriculture, was elected vice-president. It coincided with the Solidarity and Governor's Night.
Dr. Agrupis thanked the presidents from member-SUCs for the trust, hoping to strengthen the solid north's common vision and goals in harmonizing various academic and research programs of the member colleges and universities from the four regions.
Coined with the acronym ASCU, the new president said A stands for active involvement of all member-SUCs in the north; S for sustainable programs and activities; C for collaborative pursuit in sports competition, research and extension activities; and U for united and ever-growing community to expand its presence in other regions.
"As your president, I hope that you are one with me in this vision," she said.
Aside from the annual sports and fitness event, the ASCU-SN also engaged in academic, research, and other activities of mutual benefit to its members.
Gallery