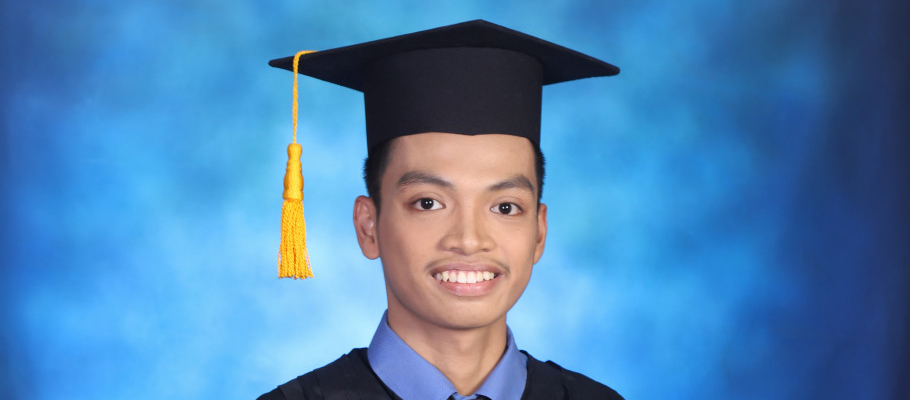 Reaching greatest heights in accountancy
Sherwin Paul L. Tambio wanted to pursue a degree in accountancy and dreamed to graduate as magna cum laude. But little did he know that his perseverance led him to greatest heights.
Today, after four years of academic struggle, Sherwin is graduating as summa cum laude with flying colors.
Sherwin is the second accountancy degree holder to become summa cum laude and the fourth graduate to get the highest latin honor in the history of MMSU. Garnering a general weighted average of 1.1169, he will lead the 2,800 graduating students in the university's 41st Commencement Exercises today.
A native of Brgy. Puyupuyan, Pasuquin, Ilocos Norte, this 20-year-old honor graduate is no stranger to academic excellence. He graduated Valedictorian at the Pasuquin Central Elementary School in 2011 and at MMSU Laboratory High School in Laoag City in 2015.
"I didn't believe it at first, until one of my professors confirmed the good news to me," Sherwin said when asked how he felt when he learned he was going to graduate as summa cum laude.
"I am very much overwhelmed of the fruit of my struggles," he smiled, adding that a lot of people were already expecting him to become the next summa cum laude since the day he entered the university.
Sherwin admitted that there were times he felt pressured by his professors and classmates because they were expecting him to top the next Certified Public Accountant (CPA) Licensure Examination, and that he would follow or surpass the record of the late Gemma Ulep, the first MMSU accountancy graduate who became summa cum laude and topnotcher in the same licensure examination.
"If you see the timeline in the MMSU's passing rate in CPA board examinations, you find that it is decreasing. That's why I must try my best not only to pass it, but to become a topnotcher," Shewin said, adding that he intends to undergo review classes after graduation.
Sherwin revealed that before entering college, he initially wanted to take BS Civil Engineering. But his sister convinced him to take BS Accountancy, instead, when he met the cut-off score in the College Freshman Admission Test.
"I found it hard to make friends because many of them from other colleges thought that I was unfriendly, someone who only invest his time in books," he lamented.
"But I proved their wrong perception when I started reaching out to them. Soon, all accountancy students in our college became my friends," he beamed.
As Sherwin pursued his college degree, there were times he wanted to surrender due to financial constraints and rigidness of the course. But instead of giving up, he reminded himself on his dream to have a better future.
Today, as Sherwin leads the whole graduates in proverbial ceremonies at the Sunken Garden, he expressed his gratefulness to his family for helping him finish his degree, and to his professors and friends who reminded him that he must enjoy college life to the fullest.
His guiding principle in life is, "Real joy is found in not being helped but in helping others." For him, helping people brings out their willingness to help themselves.
"I am willing to extend help to those who are losing their hope because I know exactly how they feel," he said.
Every great dream starts with a dreamer, and anyone must have the strength, patience, and the passion to reach for the greatest heights.
And Sherwin has reached those heights through faith in God.
Gallery