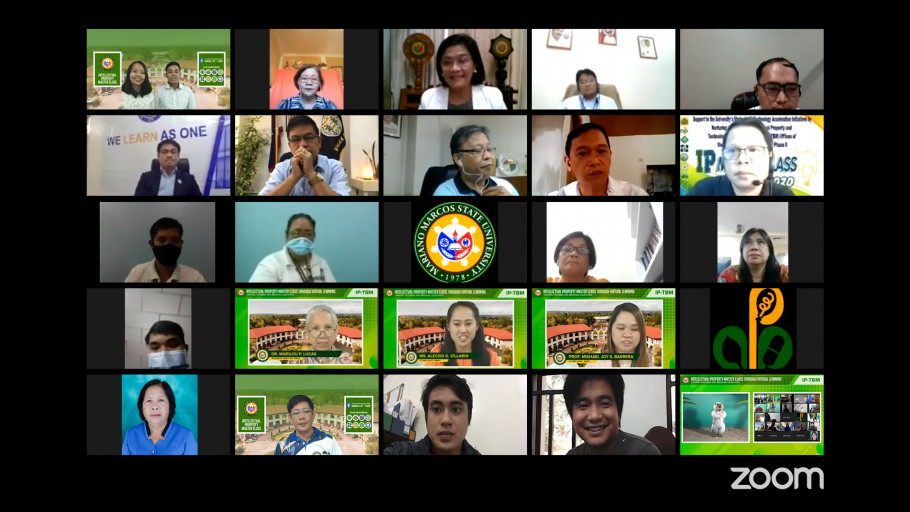 MMSU trains Region I SUCs on protecting intellectual properties
By DANIEL P. TAPAOAN, JR.
The Mariano Marcos State University (MMSU) launched on Monday (July 20) the Intellectual Property (IP) Master Class for Region I as an initial step toward strengthening the capabilities of the state universities and colleges (SUCs) in technology protection and commercialization.
The virtual training-workshop is being participated in by two researchers from each of the following SUCs in the Ilocos region, being the mentee-agencies: the University of Northern Philippines (UNP), Ilocos Sur Polytechnic State College (ISPSC), North Luzon Philippines State College (NLPSC), Don Mariano Marcos Memorial State University (DMMMSU), and Pangasinan State University (PSU).
Runs from July 20-24, the training-workshop aims to equip the participants the skills in preparing a patent document of certain technology and in managing and commercializing protected technologies.
The IP Master Class comprises five modules. The first two modules will be discussed by MMSU focusing on the introduction of intellectual property (IP) management and prior art search.
The rest of the modules will be discussed by the Association of PAQE Professionals (APP) in collaboration with the Philippine Council for Agriculture, Aquatic, and Natural Resources Research and Development (PCAARRD).
The five-day training is under the program Support to the University's Strategies in Technology Acceleration Initiatives by Nurturing the Intellectual Property and Technology Business Management Offices of the Consortia Member-Agencies (SUSTAIN IP-TBM) Phase 2, which is funded by the PCAARRD.
During the online launching, Dr. Dionisio Bucao, the regional project leader and chief of MMSU Intellectual Property and Technology Business Management (IP-TBM) office, said that the university has pushed its efforts to become the mentor-agency in Region I which will further the training on IP protection and commercialization to various SUCs in this part of the country.
"As a mentor-agency, we create a 'multiplier effect' by allowing and challenging them to conduct a re-echo training-workshop in their respective SUC, with our completed technology disclosure form and prior art search reports as evidence of their mindfulness of the intricacy of IP protection and commercialization," he stressed.
For her part, MMSU President Shirley C. Agrupis emphasized that MMSU embraces advancement in technology transfer and promotion as manifested by its various research outputs and generated technologies in various fields.
At present, MMSU has already 47 knowledge products that were granted with IP protection, including three patents, one trademark, 28 utility models, 16 copyright materials, and 4 NSIC registered varieties that are ready for commercialization.
With these outputs and being a mentor-agency, Dr. Agrupis believes that MMSU is a 'frontliner' in promoting and commercializing intellectual properties in the region. In this endeavor, she looks forward to fruitful collaborations with other SUCs in Region I.
In response, the SUC presidents pledged their support to the endeavor, hoping that the training will further strengthen their capabilities in translating results of government-funded researches into useful products, processes, and services that will benefit the communities.
Also present in the event were Mr. Noel Catibog, office-in-charge of PCAARRD's Technology Transfer and Promotion Division; Dr. Teddy Tepora, overall program leader; Atty. Jerry Serapion, an APP member; and Dr. Armando Ganal, director of the Department of Science and Technology (DOST) Region I.
The SUSTAIN IP-TBM program involves 30 SUCs from Regions I, IV-A, VI, and XI, five of which are mentor-agencies while the rest are mentee-agencies. The mentor-agencies are the Cavite State University (CvSU), Bicol University (BU), Capiz State University (CapSU), University of Southern Philippines (USeP), and MMSU.
The IP protection and commercialization advocated by the PCAARRD is also in support of the existing policies such as the Republic Act 10055 or the Technology Transfer Act, RA 11337 or the Innovative Startup Act, and RA 11293 or the Philippine Innovation Act. (StratCom)

Gallery