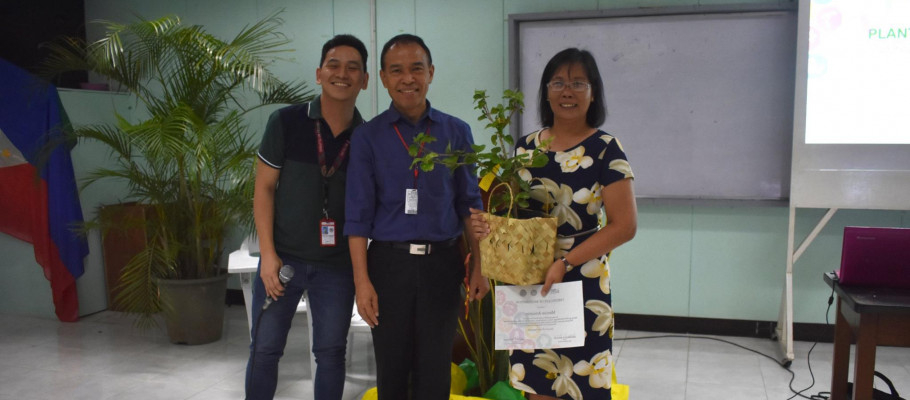 MMSU savants win in 2019 plant bio forum
Three MMSU researchers won the Best Poster award during the 2019 Plant Biology Forum held at the University of the Philippines at Los Baños (UPLB) in Laguna last April 29-30.

Menisa A. Antonio, Evangeline S. Galacgac and Rodel T. Utrera got the recognition with their entry, Phenology of Broussonetialuzonica (Blanco) Bur.: A Promising Indigenous Vegetable. It was Antonio who represented the team during the forum.

Locally known as alukon in Ilocano, or himbabao in Tagalog, this edible tree is endemic in almost parts of northern Philippines.

The researchers identified the characteristics, flowering habit and factors affecting the plant in order to harness its potentials for food, health, nutrition, and as income supplement to farm families.

Antonio said that in doing the research, they identified the sample trees in four ecological zones of Ilocos Norte (northern coastal, southern coastal, eastern interior and central lowland) and in areas with climate types I-IV (Ilocos Norte, Cagayan and Apayao).

"We also characterized the tree in terms of morphology, reproductive characters, growth and development stages, and duration and dates of occurrence in each stage," Antonio shared.

The researchers also gathered the climatic data (temperature, relative humidity, wind speed, precipitation and adverse weather conditions) of the identified areas from the nearest Philippine Atmospheric, Geophysical and Astronomical Services Administration (PAGASA) stations.

Antonio said after studying the indigenous vegetable, her group plans to undergo mass propagation of this promising plant variety, establish a gene bank, and massive planting program for the cultural studies and management interventions to enhance its commercial production.

Meanwhile, the 2019 Plant Biology Forum was organized by the Plant Biology Division at UPLB, with the theme "Breakthroughs in Plant Biology." The event showcased different poster presentations of researchers of various field studies.

There were around 80 participants in the forum and a total of 15 scientific abstracts were submitted covering topics from plant ecology and systematics, ethnobotany, plant taxonomy, biodiversity and conservation, plant morphology-anatomy, and plant physiology.

Gallery