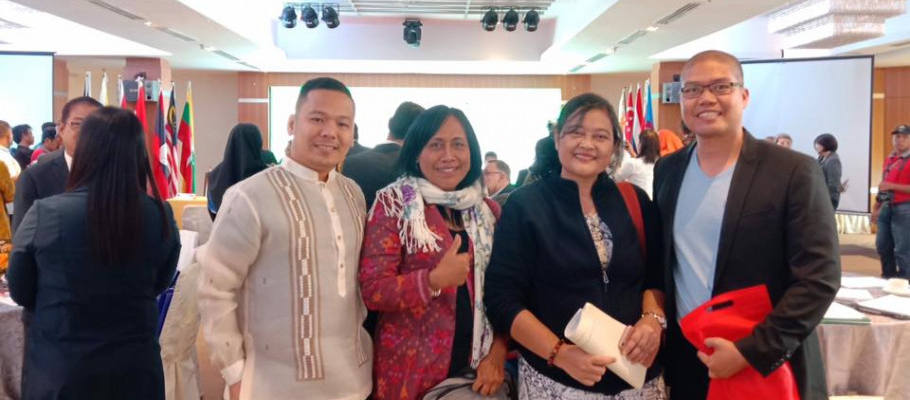 MMSU joins polytechnic meet in Malaysia
MMSU was one of the 20 schools in the country which joined the 5th Southeast Asian Ministers of Education Organization (SEAMEO) Polytechnic Network Meeting in Malaysia last March 25-30.
Together with MMSU representatives Dr. Mee Jay A. Domingo and Jay Pee Ilacas, were 35 other higher education executives from 17 state universities and colleges (SUCs) in the country, including the Technical Education and Skills Development Authority (TESDA), and four private universities represented the Philippines in the six-day network meeting.
Domingo is the director of MMSU's External Linkages and Partnership and concurrently the coordinator for both SEA TVET and SEA Teacher Projects, while Ilacas is the chief of the university's on-the-job training (OJT) program.
The 5th SEAMEO Polytechnic Network Meeting was a conference on technical and vocational education and training (TVET) that was convened at Ipoh, the capital city of the state of Perak, in Malaysia and was attended by representatives of seven countries – Philippines, Malaysia, Vietnam, Indonesia, Thailand, Japan, and Cambodia.
It was conducted to share and learn the successful practices of student exchange from the participating institutions; review and evaluate the implementation of the 3rd batch of SEA-TVET student exchange that happened in January to April 2019; identify the agreed mechanism and improvement for the 4th batch of SEA-TVET student exchange to be implemented in August to October this year; and seek commitments from participating TVET institutions in the 4th batch of SEA-TVET student exchange.
With the SEAMEO secretariat as co-organizer, the conference was hosted by the Malaysia's Department of Polytechnic and Community College Education under its Ministry of Education and the Politeknik Ungku Omar.
"The meetings were very productive because we met the coordinators of both projects who expressed their commendations on the performance of our students during their internship programs," Dr. Domingo said in his report to Dr. Prima Fe R. Franco, vice president for Academic Affairs, adding that the coordinators "have signified their interest to partner with us."
SEAMEO promotes TVET among learners and their parents through more visible investments in the field and improvement of the curricula's relevance to focus on creativity and innovation.
The SEAMEO Strategic Dialogue of Education Ministers agreed that TVET in the Southeast Asian region could be enhanced through the development of a regional policy framework for labor, skills and learner mobility.
TESDA is the lead TVET institution in the Philippines, with various vocational schools and SUCs offering TVET courses.
The meeting served as a platform for technical-vocational institutions to discuss and collaborate in the implementation of the cross-country TVET student exchange program.
The program, which is currently on its fourth offering, aims to enhance the internationalization and partnership of TVET institutions and promote global competitiveness and 21st century skills of technical-vocational students in Southeast Asia.
Officials of the Philippine government-hosted Southeast Asian Regional Center for Graduate Study and Research in Agriculture (SEARCA) also joined the conference. The organization had been actively supporting TVET since it was tapped by SEAMEO to lead research on competency certification for agricultural workers in Southeast Asia to promote TVET in agriculture.
Aside from MMSU, this year's Philippine delegation included officials of Bicol State College of Applied Science and Technology, Bulacan State University, Camarines Norte State College, Central Bicol State University of Agriculture, Central Luzon State University, Central Mindanao University, Don Mariano Marcos Memorial State University, Guimaras State College, Iloilo Science and Technology University, Iloilo State College of Fisheries, Lyceum Northwestern University, Mindoro State College of Agriculture of Technology, Nueva Ecija University of Science and Technology, Pangasinan State University, President Ramon Magsaysay State University, Saint Louis University, Tarlac Agricultural University, Trimex Colleges Inc., University of Mindanao, and University of the Immaculate Conception.
Gallery