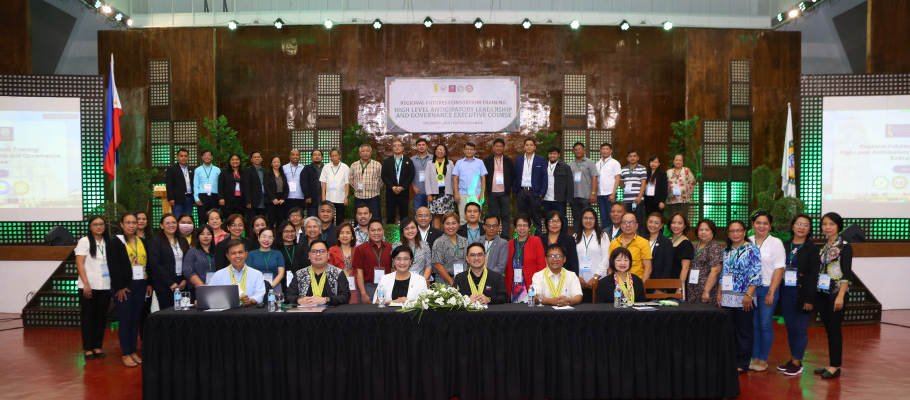 MMSU hosts regional futures consortium training
By Daniel P. Tapaoan, Jr.
Committed to espouse futures thinking in higher education, officials of five state universities and colleges in the Ilocos region convened for the Regional Futures Consortium Training held on November 28 to December 1.
Hosted by Mariano Marcos State University, the workshop is an executive course on high level anticipatory leadership and governance designed by the Philippine Futures Thinking Society (PhilFutures), and guided by the Senate Committee on Sustainable Development Goals, Innovation, and Futures Thinking chaired by Senator Pia Cayetano. It is also strongly supported by Senator Sherwin Gatchalian, a senior fellow of the PhilFutures.
Futures thinking is a cross-disciplinary approach in exploring trends and drivers for change which may lead to various future scenarios. It means having an "anticipatory mindset to disrupt the present."
The three-day workshop is participated in by 60 administrators from MMSU, Ilocos Sur Polytechnic State College, North Luzon Philippines State College, Don Mariano Marcos Memorial State University, and Pangasinan State University. They attended online lecture-workshops for two days, and in an in-person session today, December 1, at the MMSU Teatro Ilocandia.
The activity involved modules on anticipatory leadership and governance, its frameworks, tools, methods, and case studies; theories of social change; and the use of the regional futures framework.
Dr. Lizan E. Perante Calina, PhilFutures president, said the workshop intends to enable state universities and colleges to apply futures thinking tools and to determine the components of their regional futures agenda. Prof. Michville Rivera, Philfutures board member and director for strategic education, who served as moderator, added that the training-workshop is crucial for identifying the universities' focal concerns and directions in developing their futures thinking and foresight, and in crafting their framework to operationalize their strategic foresight process.
MMSU President Shirley C. Agrupis thanked PhilFutures, Senator Cayetano, and Senator Gatchalian for bringing the high-level workshop in Region I, and for trusting MMSU to host the executive course.
President Agrupis emphasized that SUCs in Region-I need to advance as "a strong and strategic alliance" of futures thinkers. "As academic leaders, we need to translate our new knowledge into transformative actions, thus, developing futures thinkers in our learners and personnel toward strengthening the Philippine higher education system," she urged. Dr. Saturnina Nisperos, MMSU director for futures thinking and strategic foresight, expressed happiness over the outcome of the training and expressed hopes that this "anticipatory mindset" will continue to be espoused by the participants.
A memorandum of understanding is signed between Philfutures and Region 1 SUCs to jointly pool knowledge and expertise on futures thinking and sustainable development.
Other eminent resource speakers are: Mr. Emmanuel De Guia, PhilFutures director for strategic partnership and networking, and resident futurist of the Philippine Senate; Dr. Reginald G. Ugaddan, PhilFutures director for strategic research, and college secretary and CPAGE director of UP-NCPAG; Dr. Ma. Oliva Z. Domingo, PhilFutures senior fellow and president of Kalayaan College; Dr. Alex B. Brillantes Jr., PhilFutures senior fellow and former CHED Commissioner, and Dr. Ruperto S. Sangalang, former CHED Commissioner and former president of Cavite State University. (HLY/JVBT, StratCom)

Gallery