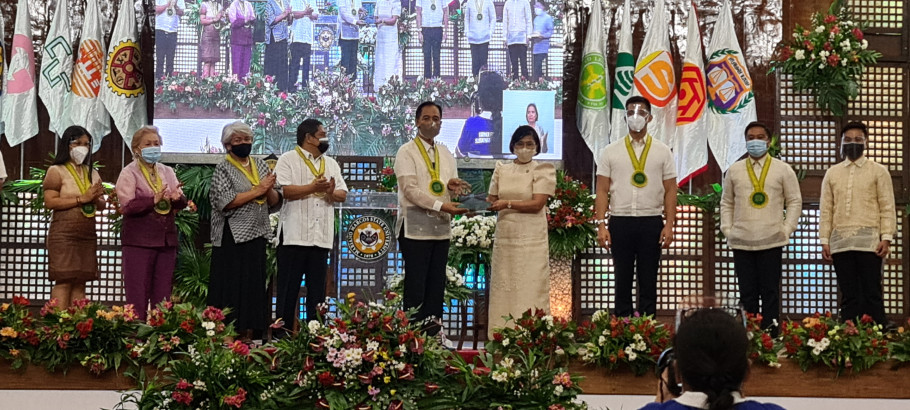 MMSU holds anniversary convocation
By Daniel P. Tapaoan, Jr.
Celebrating its responsiveness, resiliency and relevance, the Mariano Marcos State University (MMSU) conducted its foundation anniversary convocation at the Teatro Ilocandia last January 15.
Considered as the heart of the MMSU's foundation anniversary celebration, the convocation highlighted the university's major accomplishments in 2020 through the State of the University Address (SOUA) delivered by MMSU President Shirley C. Agrupis.
In her SOUA, Dr. Agrupis highlighted how the university vigorously embraced the challenges of the pandemic, excelled in the new normal, and continued to move forward.
"Steering this university to greater heights and wider horizons is never the work of one but of the whole Team MMSU," Dr. Agrupis emphasized, as she attributed the success of the university to its constituents "who share the same values, principles, and dreams."
The university president also thanked the leadership of the Commission on Higher Education (CHED), members of the MMSU Board of Regents (BOR), and the university's stakeholders for their strong support to the university. She also promised that the university will brace for the next normal by continuously upholding its brand of excellence in instruction, research, extension, and resource generation in the years to come.
Meanwhile, Agriculture Secretary William D. Dar served as the guest of honor and speaker in the program. Other attendees in the venue were Congressman Angelo M. Barba; Ilocos Norte Governor Matthew Manotoc and Vice Governor Cecilia A. Marcos; municipal and city mayors in the province; former president Dr. Santiago R. Obien; BOR members; MMSU Administrative Council officials; University Student Council, Association of Non-Teaching Administrative Personnel, Faculty Association, Inc., and Federated Alumni Association, Inc. officers; and heads of government agencies.
For his part, Sec. Dar commended the university for its development initiatives and urged Dr. Agrupis and the university constituents to achieve greater accomplishments and service to the community.
Former members of the BOR and administrative council were also recognized for their service to the university. It also cited the local government units of Batac, Badoc, Solsona, Piddig, Pagudpud, Sarrat, Nueva Era, San Nicolas, Currimao, and Dumalneg for their support to the MMSU-LGU-Telco Convergence for virtual learning project.
The program was also streamed via Zoom and through the university's officials Facebook page (@MMSUofficial) which garnered 15,500 views, 770 likes, 241 comments, and 314 shares as of this writing.
The MMSU's 43rd foundation anniversary celebration will continue with the Ay-ayam iti Kailokuan and Virtual Students' Day on January 22; Alumni Day, Stakeholders' Forum, and annual PRAISE awarding ceremony on January 29. (StratCom)

Powered by Froala Editor
Gallery