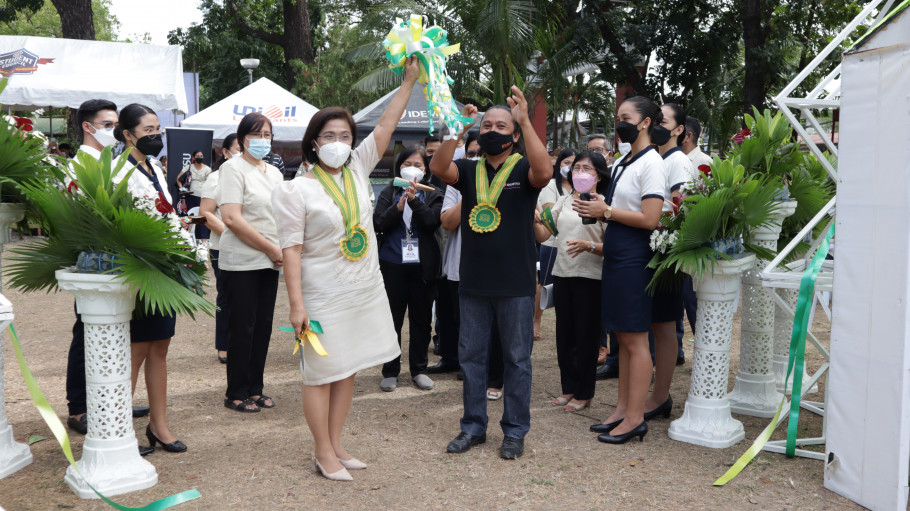 MMSU celebrates 44 years of ACHIEVEments
By Daniel P. Tapaoan, Jr.
Highlighting its milestones in the past year, the Mariano Marcos State University (MMSU) has kicked-off the 44th Foundation Anniversary Celebration with the theme, "MMSU at 44: ACHIEVEing more."
The celebration started with a thanksgiving service at the MMSU Teatro Ilocandia this morning, January 6, which was livestreamed via the University Facebook page (@MMSUofficial) and via Zoom.
Pastor Marcial D. Gabriel of the Christ the Chief Cornerstone Christian Church and Chaplain Florentino Reyes, Jr. of Northern Christian College served as ministers in the service.
Ptr. Gabriel emphasized the value of "looking back to thank God" and "looking forward to trust God" for the University to achieve more.
"If MMSU wants to achieve more, it should pray more, be more selfless, more humble, obey God more, serve more, and trust God more," he stressed.
After the thanksgiving service, the opening of Garden Show and Trade Fair was held at the College of Law grounds. This includes horticultural exhibitions and research-based technologies of MMSU researchers and assisted entrepreneurs; the pomology and floriculture nurseries, and other products of private exhibitors.
A total of 77 exhibitors participated in this year's trade fair, which are grouped into five: furniture and handicrafts section with seven exhibitors; food and refreshments, 22; dry goods, 32; garden show, 11; and government agencies, five.
MMSU President Shirley C. Agrupis welcomed the exhibitors and visitors during the opening program, reminding them to strictly follow the health protocols in light of the ongoing pandemic.
Dr. Agrupis said the trade fair has become "a grand showcase of our innovations that have impacted the lives of our stakeholders."
She added this year's founding anniversary celebration is more meaningful "because we surpassed all the challenges and achieved many milestones last year."
Meanwhile, Mr. Eleuterio A. Salamangkit, Jr., certified public accountant and owner of EQ Holdings, Inc., served as the guest speaker in the opening of garden show and trade fair.
The celebration will continue with the following activities: Anniversary Convocation on January 20; Virtual Stakeholders' Forum on January 24; Alumni Day Celebrations – Turnover of Alumni Villa and Dinner for a Cause – on January 25; Professional and Academic Journey Across Cultures on January 26; Watwat 5.0 on January 27; Retirees' Day and PRAISE Awards Ceremony on January 28; Students' Day and Virtual Parambak on January 31; and School-on-the-Air Graduation Ceremony on February 3. (StratCom)

Gallery