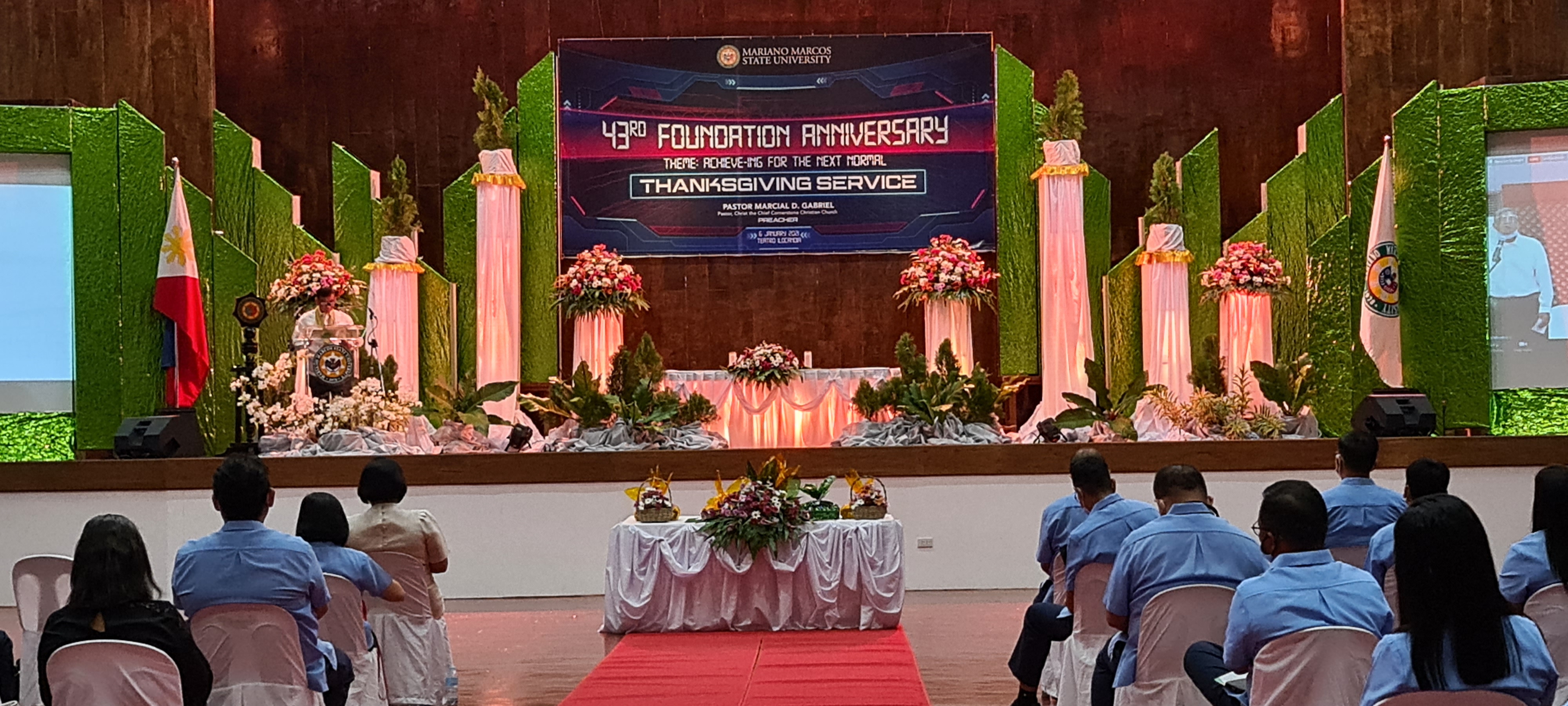 MMSU celebrates 43rd foundation anniversary
By Daniel P. Tapaoan, Jr.

Excelling in the new normal. Braced for the next normal.
Today, the Mariano Marcos State University kicked off its 43rd Foundation Anniversary with the theme, "ACHIEVE-ing for the Next Normal." The celebration highlights the University's milestones in the past year, especially as it hurdled the 'new' normal, as well as its initiatives in anticipation of future challenges.
The celebration started with a thanksgiving service held at the MMSU Teatro Ilocandia this morning, January 6, which was livestreamed on the University's official Facebook page (@MMSUOfficial), In his message, Pastor Marcial D. Gabriel of Christ the Chief Cornerstone Christian Church, former MMSU Faculty Regent, emphasized the value of gratitude for one's blessings, highlighting how MMSU has been blessed by the Lord in the past 43 years.
After the thanksgiving service, the Garden Show - an annual tradition - was opened at the Science and Technology (S&T) Park. It features various horticultural exhibitions and research-based technologies by MMSU researchers and assisted entrepreneurs, the pomology and floriculture nurseries, as well as some private exhibitors based in Ilocos Norte.
"Our theme spells out the direction we have to take as we continue to confront greater challenges in the years ahead, not only in the threat of COVID-19 but more so on furtherance of our vision to become a premier Philippine university and one that acclaims international recognitions," Dr. Agrupis expressed during the opening of garden show.
She said that despite the strict health protocols, the MMSU constituents still come together as one family to celebrate the university's founding anniversary. "We do not let these limitations restrict our celebration of unity in the name of service and excellence," she added.
As of this writing, the Facebook livestream of thanksgiving service garnered 633 likes, 129 comments, and 134 shares while the virtual garden show earned 311 likes, 13 comments, and 25 shares.
The celebration will continue with the annual PRAISE awarding ceremony for outstanding MMSU employees and Anniversary Convocation on January 15, Ay-ayam ti Kailokuan and Virtual Students' Day on January 22; Virtual Alumni Day and Stakeholders' Forum on January 29.
Gallery