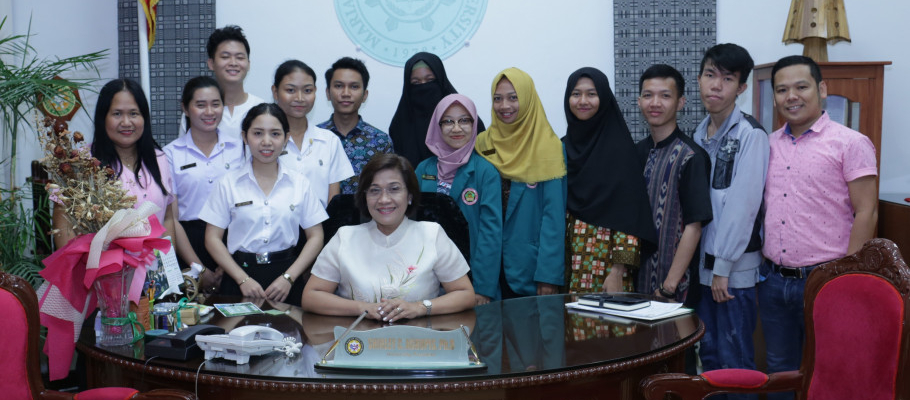 MMSU accommodates foreign students for SEAMEO pograms
Eleven foreign students came to MMSU this August to take the month-long internship programs of the Southeast Asian Ministers of Education Organization (SEAMEO).
Of this number, five have undergone the Pre-Service Student Teacher Exchange in Southeast Asia (SEA Teacher), while six have taken the Southeast Asian Technical and Vocational Education and Training (SEA-TVET) at MMSU.
The five participants of the pre-student teaching internship were Matis Iga Raspati, Yupaporn Santhong and Krittika Armartmontree from the Valaya Alongkorn Rajabhat University in Thailand; and Rose Ajeng Ika Pertiwi and Matis Iga Raspati from the Sarjanawiyata Tamansiswa University in Indonesia. On the other hand, the six SEA-TVET participants were Minh Phat Vuong and Thien Chan Nguyen from the Hoa Sen University in Vietnam; Alfat Duta Iswantara from the Islamic University of Kalimantan, Siti Azizziah Azzahra Pernama Putri and Mira Afriani from the University of Muhammadiyah, Prof. Dr. Hamka, and Okta Graedmicko from the IPB University School of Vocational Studies in Indonesia.
Dr. Mee Jay A. Domingo, director of MMSU's External Linkages and Partnerships, said the participants of the SEA Teacher took pre-student teaching internship at the MMSU College of Teacher Education, while the SEA-TVET participants were accommodated by the College of Business, Economics and Accountancy and were trained by the participating industry-partners of the university.
"Aside from teaching practicum and working immersion, these participants also experienced cultural immersion like visiting the heritage sites of Ilocos Norte, among others. They were also given the change to mingle with our MMSU students and faculty through socialization," Domingo said.
Through the two SEAMEO programs, MMSU was able to accommodate 42 foreign students from the participating universities and sent 26 MMSU students to the member-institutions since it joined the SEA Teacher in August 2018 and SEA TVET in February 2019.
The SEA-TVET consortium is composed of TVET institutions in 11 Southeast Asian countries, which have agreed to work together to harmonize and internationalize their programs through curriculum harmonization, students and staff exchange, industrial attachment, and resource sharing.
Gallery