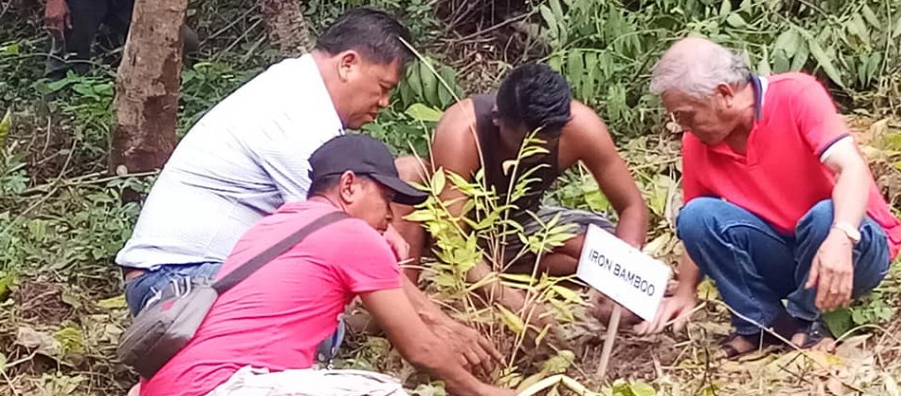 Farmers trained on bamboo production, rejuvenation
A total of 22 residents in Brgy. Caraitan of Badoc town has undergone training on how to establish and rejuvenate bamboo plantations to sustain the town's agroforestry program.
Conducted by the MMSU Extension Directorate, the activity also involved the planting of 10 high-valued bamboo species in the vicinities of the barangay, such as kawayan tinik, machiku, Calcutta, Buddha bamboo, killing, bayog, Thailand, yellow striated, iron bamboo, and black bamboo.
Badoc Mayor Maximo Cajigal said the activity is a step to sustain the town's environment with hope that the plants will deliver benefits and potential livelihood development programs to the community.
"This bamboo production and rejuvenation training that MMSU conducted in Brgy. Caraitan will surely enable our farmer-participants to appreciate the importance of bamboo production as a source of income," Cajigal said.
Cajigal led the town officials during the transplanting activity while those from MMSU were led by MMSU Extension Director Aris Reynold Cajigal.
The Cajigals encouraged those who joined the activity to maintain and nurture the bamboo propagules, saying the bamboo species they planted will serve as sources of planting materials for future reforestation activities.
The bambusetum demonstration project in Badoc is the third demonstration project in Ilocos Norte after a recent off-campus bamboo demos in Brgys. Buduan, Burgos, and Sulbek in Pasuquin, Ilocos Norte last month.
Trainers were Prof. Charlie Batin of the College of Agriculture, Food, and Sustainable Development (CAFSD) who lectured on the Overview of Bamboo Production in the Philippines, Bamboo Nursery Establishment and Management, Bamboo Plantation Establishment and Management, and the Bamboo Rejuvenation Technology.
Prof. Charito Samsam of the MMSU Research Directorate discussed the Bamboo Harvest and Post-Harvest Technologies, and Cost and Return Analysis for Bamboo.
They said bamboos are great environmental allies in purifying and regulating the environment.
Bamboos function as carbon sinks, agents in oxygen production, control of soil erosion, provision of organic matter, regulation of water levels in watersheds, conservation of biodiversity, landscape beautification, and a ready source of bamboo shoots for food, building materials, and shades.
Gallery