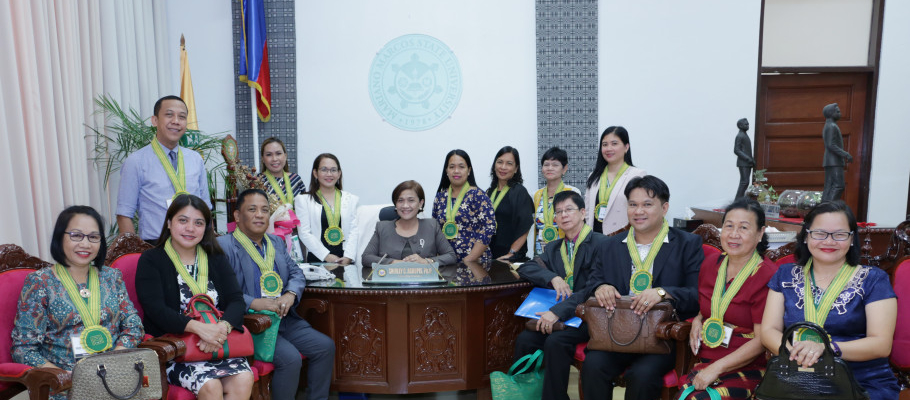 AACCUP visits 4 programs
Four academic programs of MMSU underwent accreditation by the members of the Accrediting Agency of Chartered Colleges and Universities in the Philippines (AACCUP) on April 23-25.
These programs – which were all evaluated for Level II – were BS Business Administration and BS Hospitality Management from the College of Business, Economics and Accountancy; and BS Pharmacy and BS Physical Therapy from the College of Health Sciences.
Dr. Leoncio Matibag of the Southern Luzon State University (SLSU) headed the 14-member AACCUP Survey Team. He said during the opening program that accreditation is popularly viewed as one of the passports for quality assurance and excellence in education, adding that AACCUP ensures that academic programs are competitive as they conform to the national and global standards.
"State universities and colleges have a common goal and advocacy to improve the quality of the services that they deliver to their clientele and stakeholders. This is the reason why we are here," Matibag explained, assuring the MMSU administrators, personnel and students that the team is objective in evaluating the programs, hoping to attain the purpose of the survey visit.
Among the activities during the survey visit were random class observation, ambush and panel interviews, and on-site visit on the extension projects. The survey team also invited some MMSU alumni, stakeholders, and local government officials during the evaluation process.
Meanwhile, MMSU President Shirley C. Agrupis attributed the MMSU's present status in terms of academic excellence to AACCUP evaluation "because accreditors bravely and sincerely pointed out the university's weaknesses coupled with recommendations that serve as our driving force to embrace change."
"We all believe that if we were to truly advance our academic programs to a higher place of relevance and distinction, we must have a very clear picture of where we are, taking pride in our strengths while fully acknowledging areas that remain to be worked on," Dr. Agrupis said.
Last March, eight academic programs of MMSU were also subjected to Level IV AACCUP survey visit -- BS Accountancy, BS Economics, BS Agricultural and Biosystems Engineering, BS Computer Science, Bachelor in Elementary Education, Bachelor of Secondary Education, BS and MA/M Nursing.
The AACCUP team leaders were Dr. Bendalyn M. Landicho of Batangas State University, Prof. Nora A. Alcayaga of President Ramon Magsaysay State University (PRMSU), Dr. Manuel P. delos Santos of SLSU, and Dr. Julius T. Capili of Cagayan State University (CSU).
Members of the accreditation team were Dr. Marianne P. Villaruel of Tarlac Agricultural University; Dr.Beverlyn I. Agustin of PRMSU; Prof. Dorina D. Sabatin, Prof. Roel L. Talattad and Dr. Julius T. Capili of CagSU; Prof. Vickilyn A. Guieb of ISU; Prof. Percival C. Verano of SLSU; Dr.Abegail L. Gonzales of Batangas State University; and Dr. Rosalinda G. Nones of Nueva Vizcaya State University.

Gallery