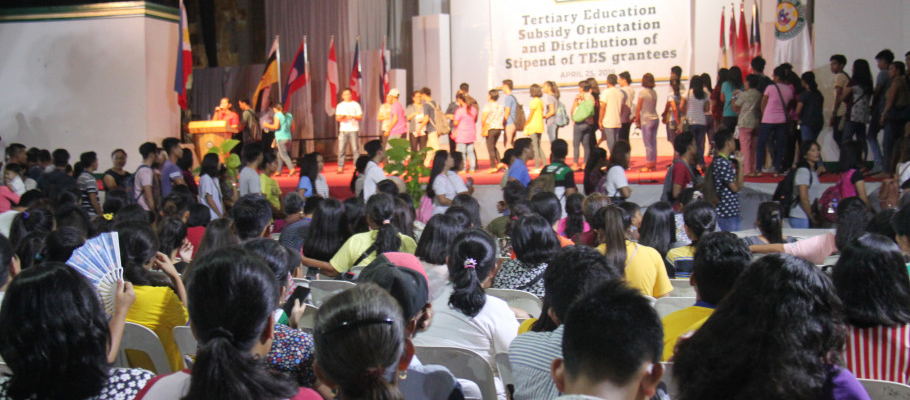 880 MMSU students receive subsidies
A total of 880 students of MMSU who are beneficiaries of the Tertiary Education Subsidy (TES) received their stipends in a simple program held at Teatro Ilocandia last April 25.
Of this number, 168 were from the College of Agriculture, Food and Sustainable Development; 161 from the College of Teacher Education; 160 from the College of Industrial Technology; 153 from the College of Business, Economics and Accountancy; 146 from the College of Engineering; 66 from the College of Arts and Sciences; and 26 from the College of Health Sciences.
TES is one of the four components of the Republic Act 10931 or the Universal Access to Quality Tertiary Education Act being implemented by the Commission on Higher Education (CHED). The program provides financial assistance to poor but qualified students studying in private and public higher education institutions (HEIs) in the country.
Each beneficiary was given P40,000 stipend per year which can be used for education-related expenses such as books, transportation, supplies, room and board fees, among others.
During the program, MMSU President Shirley C. Agrupis thanked CHED for its efforts in bringing quality education closer to the Filipino families, saying that more college students are now able to graduate through this subsidy from the government.
"Previously, more college students were not able to finish their degrees because of various reasons," Dr. Agrupis said, citing data based on the 2017 Annual Poverty Indicators Survey conducted by the Philippine Statistics Authority.
Of the 3.6 million Filipinos who were considered out-of-school youth in 2017, 83.1 percent were of college age (16-24 years old), and almost 20 percent cited financial concerns of high cost of education as reason for not going to school.
Addressing the TES grantees with their parents, Dr. Agrupis urged the students to use their stipends wisely and finish their respective degrees "no matter what happen," while assuring the parents that MMSU will do its best to help their children reach their dreams.
Meanwhile, students are prioritized for TES based on the conditions laid out in the Implementing Rules and Regulations on RA 10931: they are continuing beneficiaries of the Expanded Students' Grants-in-Aid Program for Poverty Alleviation; are enrolled in private HEIs in cities or municipalities with no state or local university and colleges; and are included in the Listahan 2.0 of the Department of Social Welfare and Development.
Those not included in the Listaan 2.0 but show proof of indigency such as BIR certificate of no income, or barangay certificate of indigency, and ranked according to per capita income are also prioritized.

Gallery