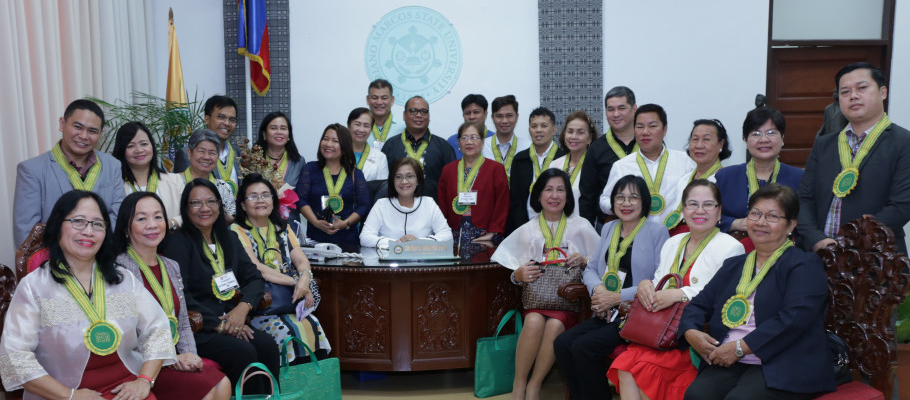 8 programs undergo accreditation
MMSU submitted its eight academic programs for accreditation by the members of the Accrediting Agency of Chartered Colleges and Universities in the Philippines (AACCUP) for a rigorous five-day survey visit that ran from March 11-15.
These programs, all of which were evaluated for Level IV, were BS Accountancy, BS Economics, BS Agricultural and Biosystems Engineering (BSABE), BS Computer Science, Bachelor in Elementary Education (BEEd), Bachelor in Secondary Education, BS Nursing, and M/MA Nursing.
The 27-member AACCUP Survey Team was headed by Dr. Luzviminda A. Rodrin of the Cavite State University together with the cluster coordinators and team leaders that were assigned to evaluate the eight programs.

Dr. Helen F. delos Santos of the Philippine Normal University and Dr. Rodrin served as the cluster coordinators for Laoag City and Batac City (main) campuses, respectively.
Other team leaders were Dr. delos Santos for BEEd; Dr. Erlinda J. Porcincula of the Camarines Norte State College for BSEd; Dr. Celerino S. Palacio of Bicol University for M/MA Nursing; Dr. Loida O. Crespo of Bulacan State University for BS Nursing; Dr. Cristina R. Salvosa of Nueva Vizcaya State University for BS Economics; Dr. Richard R. Ayuyang of Cagayan State University for BSCS; and Prof. Rommel Octavius R. Nuestro of Laguna State Polytechnic University for BSABE.
MMSU President Shirley C. Agrupis said the AACCUP accreditation is one of the major avenues for the university to move forward, emphasizing that MMSU's strategic goals are grounded on the different areas of accreditation.

"We all believe that if we were to truly advance our academic programs to a higher place of relevance and distinction, we must have a very clear picture of where we are, taking pride in our strengths while fully acknowledging areas that remain to be worked on," she said.
Dr. Agrupis attributed the present status of MMSU in terms of academic excellence to AACCUP accreditation, because "accreditors bravely and sincerely pointed out the university's weaknesses coupled with recommendations that serve as our driving force to embrace change."
"Accreditation is for your future," said Dr. Rodrin, adding that such process is also instrumental for MMSU's bid to achieve its vision to become a premier university in the country by 2028.
Dr. Rodrin explained: "AACCUP accreditation determines whether an institution meets or exceeds minimum standards of quality; helps students select acceptable institutions for enrolment; and assists institutions in measuring acceptability of transfer credits because of Southeast Asian integration, Outcomes-Based Educational Program, and the K-12 Program."
"It's a collegial process based on self and clear assessment which aims to improve the academic quality and public accountability of the university," she added.
Gallery