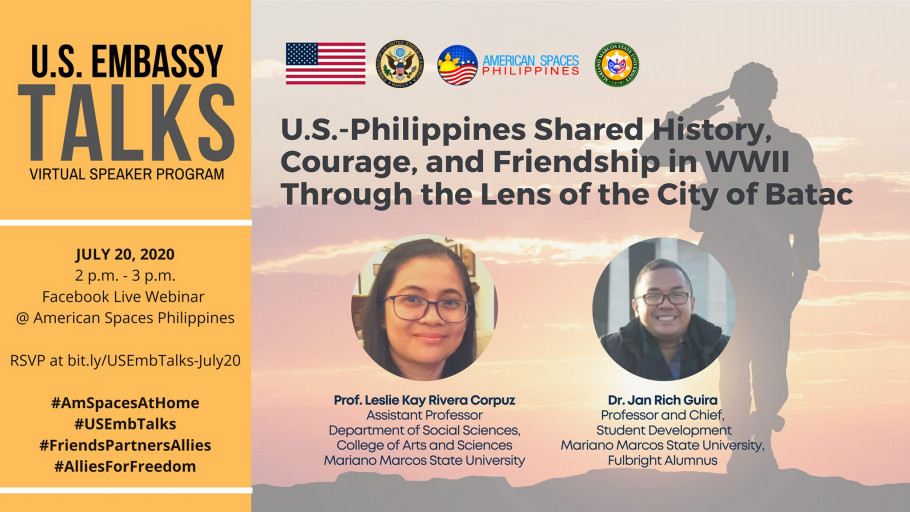 2 MMSU profs featured in US Embassy's webinar program
By DANIEL P. TAPAOAN, JR.
Two professors of the Mariano Marcos State University (MMSU) served as speakers in the second episode of the Philippine-American Friendship Month Webinar Series that was organized by the American Spaces Philippines this July.
Last Monday (July 20), Prof. Leslie Kay Rivera-Corpuz and Dr. Jan Rich Guira of the MMSU College of Arts and Sciences (CAS) delivered a lecture that revolved on the topic: "United States-Philippines Shared History, Courage, and Friendship in World War II Through the Lens of the City of Batac."
This virtual session was streamed via Zoom webinar and was seen live in the Facebook pages of the American Spaces Philippines and MMSU.
The lecture was part of the US Embassy Talks: Virtual Speaker Program which was composed of three episodes.
The topic was related to one of the research studies of Corpuz, a professor in History at the CAS Department of Social Sciences. Her study unfolded the stories of courage and cooperation of Filipinos and Americans during the World War II and the Guerilla Operations in the old town of Batac.
"Researches on World War II should be given more wholesome attention to preserve the shared history and long-standing friendships between the two nations," Corpuz concluded after the presentation.
Meanwhile, Guira presented his journey as a scholar under the Fulbright Foreign Language Teaching Assistant (FLTA) program and shared his experiences in some educational exchanges that transpired between the university and US-based schools and organizations.
These internationalization initiatives include the launching of the MMSU International Alumni Network and the partnership forged between MMSU, the University of California – Riverside, and the San Diego County Metropolitan Lions Club.
In these partnerships, MMSU received a Recognition of Outstanding Excellence from the US Embassy in the Philippines (EducationUSA) for its continuous efforts and commitment to promoting access to international education in the US.
Guira said these efforts of MMSU has resulted in the sending of some of its faculty to various scholarship programs and its students to the Massive Open Online Courses sponsored by the US Embassy.
He also presented the activities of MMSU and the American Corner (AC) in Batac City such as the speaker programs, cultural events, and educational exchange programs, among other US programs' alumni activities.
Last July 15, the MMSU and the US Embassy – Public Affairs Section renewed their partnership for the maintenance of the AC located at the University Main Library.
With this, MMSU President Shirley C. Agrupis thanked the Embassy for always choosing to collaborate with the university, saying that the university vows to persistently partner with them to promote the well-being of its constituents. (StratCom)

Gallery