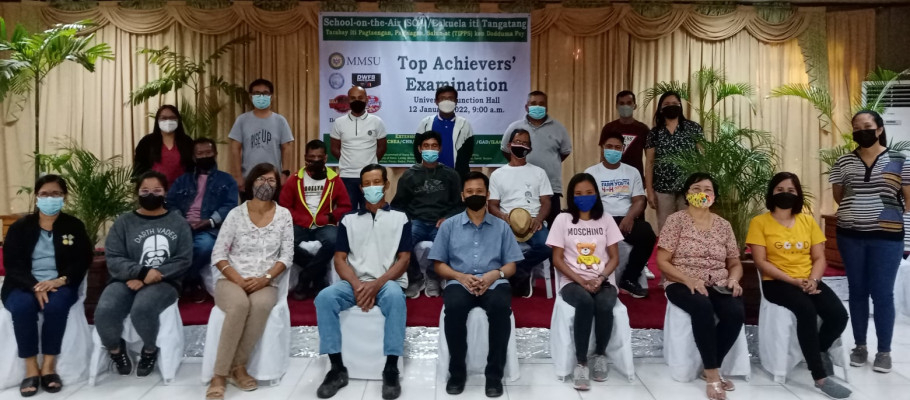 1K complete MMSU school-on-the-air
Despite the challenges brought about by the COVID-19 pandemic, more than 1,000 Ilocanos have completed the School-on-the-Air (SOA) program titled Tarabay iti Pagtaengan, Pagbiagan, Salun-at (TIPPS) ken Dadduma Pay of the Mariano Marcos State University (MMSU).
Composed of 240 episodes, the SOA on TIPPS handled by the MMSU Extension Directorate (ED) started on February 2021 and culminated last December 24, 2021.
A graduation ceremony (virtual and limited in-person) for the SOA completers will be held on February 3 as part of the University's 44th Foundation Anniversary Celebration.
From different towns in Ilocos Norte, the SOA completers are farmers and fisherfolk, junior and senior high school students, out-of-school youth, budding agri-preneurs and entrepreneurs, young professionals, and other community members.
Aside from tuning-in to the broadcast classes, they also took pre-test, post-test, and other examinations to complete the program.
Ms. Mercy R. Gaño, program anchor and chief of MMSU-ED's applied communication unit, said the episodes of the radio-based learning program covered various topics on home technology, livelihood and entrepreneurship, health and wellness, disease awareness and sanitation, food processing and value adding, crop production and vegetable gardening, environment protection and climate change, livestock raising, medicine, among others.
The broadcast classes were aired on DWFB 954 Radyo Pilipinas-Laoag at 12nn-1pm on Wednesdays and Fridays; on DWCI 105.1 Radyo Piddig at 5am-6am on Thursdays and Saturdays; and, on DWNI 91.1 Radyo Karruba-Burgos at 11am-12nn every Tuesdays and Thursdays. These were also livestreamed through the Facebook pages of DWFB Radyo Pilipinas (@RadyoPilipinasLaoag), MMSU (@MMSUofficial), and the ED (@MMSUExtensionOfficial).
"We are delighted to share information and technologies appropriate to the needs of time. Through this, we make science and technology work for people while we remain steadfast in helping people help themselves," expressed Dr. Aris Reynold V. Cajigal, extension director.
This year's SOA was conducted in cooperation with the Ilocos Agriculture, Aquatic, and Natural Resources Research and Development Consortium (ILAARRDEC), Provincial Government of Ilocos Norte through the Office of the Provincial Agriculturist (OPAG), and the participating Local Government Units (LGUs).
Expert-lecturers come from the different MMSU colleges and units, the Department of Agriculture (DA), Agricultural Training Institute (ATI), Philippine Rice Research Institute (PhilRice), Philippine Crop Insurance Corporation (PCIC), Philippine Carabao Center (PCC), and Department of Science and Technology (DOST).
The SOA program was also instrumental in the distribution of 525 units of transistor radio to the participating LGUs. (StratCom)

Gallery