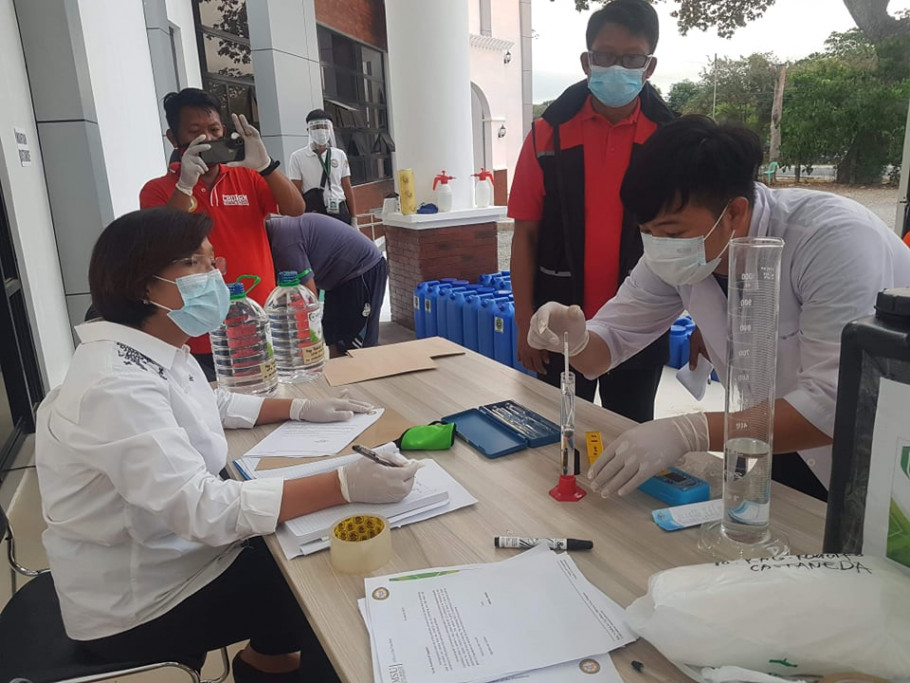 MMSU extends alcohol ration to neighboring provinces
by JOHN VINCENT B. TORIBIO
Mariano Marcos State University continues to provide rations of 70% ethyl alcohol to help communities in northern Luzon fight against COVID-19.

In addition to the continuous ration of alcohol to the various LGUs, banks, hospitals, and other agencies in Ilocos Norte, MMSU has also expanded its distribution to Ilocos Sur, Kalinga, and Apayao. Each of these provinces received 100 liters each on Monday, March 30.

Due to the 'total lockdown' imposed in Ilocos Norte, staff of the NBERIC turned over the alcohol to the recipients at the province's boundaries.

"Our fight against COVID-19 knows no borders," MMSU President and NBERIC Program Leader, Dr. Shirley Agrupis said. "As a public service university, we are in solidarity with the rest of the country, especially our fellow Ilokanos, as we stand against the disease," she added.

On the same day, 100 liters of alcohol was given to the Philippine General Hospital through Dr. Cy Bumanglag, MMSU high school alumnus and PGH resident doctor.

Also, the province of Cagayan, source of the nipa sap used as feedstock in the production of 70% Nipahol, also received 340 liters of alcohol.

Meanwhile, the university also rations alcohol and face masks to barangay checkpoints in the cities and municipalities where its campuses are located. Distribution has started in Batac and Laoag, and the university hopes to duplicate this activity in Paoay, Dingras, and Currimao.

To systematize alcohol rationing, Engr. Thomas Ubiña, NBERIC chief, has initiated the development of an online system that would also minimize physical contact between the production staff and the recipients.

The 70% alcohol is produced by NBERIC using MMSU's proprietary fermentation and distillation technologies, while the masks are an output of the Garments Project based at the College of Industrial Technology.

Gallery