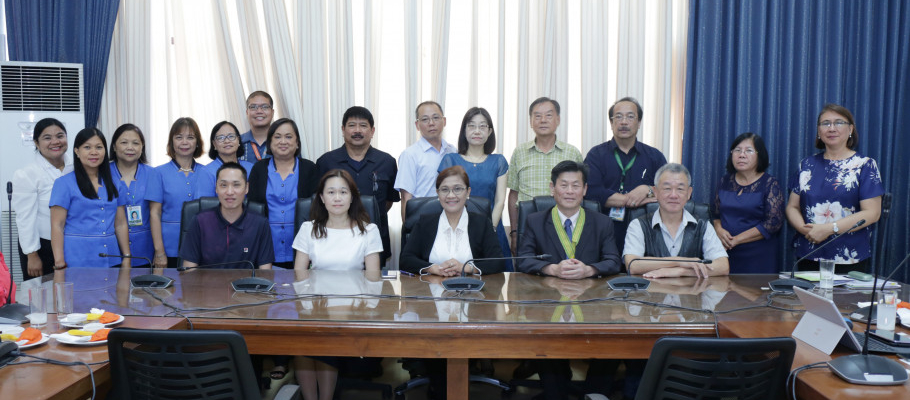 MMSU, Taiwan university to expand exchange programs
MMSU and the National Taichung University of Science and Technology (NTUST) in North District, Taichung, Taiwan are expanding their tie-up on international exchange programs.
In a meeting held at the FEM Hall (Administration Building) on April 8, MMSU President Shirley C. Agrupis presented the university's strengths and academic needs to NTUST President Chun-Hung Hsieh and other officials from the foreign university.
One strength is the capability and reputation of MMSU as the leading English language training center in the Ilocos region that can provide training to foreign students.
"We have the manpower and the expertise to provide English language training to foreign students and we want to exchange this program to our foreign schools," Dr. Agrupis said, emphasizing that MMSU has been recognized as one of the top-performing schools in various licensure examinations aside from being a national university in agriculture and fisheries, and is currently recognized by the Commission on Higher Education as a Level IV University in the country.
Dr. Agrupis admitted that MMSU needs a stronger partnership with foreign universities, such as the NTUST, to help the former strengthen its technologies in agriculture, engineering, and information technology, among others.
"I hope for a continued partnership between MMSU and NTUST so that we can provide a better education for the Filipino and Taiwanese students," she said.
Meanwhile, NTUST President Chun-Hung Hsieh welcomed the meeting as a "significant step towards expanding the collaboration between the two institutions," hoping that more students and faculty will be benefited once the tie-up is expanded.
Last May 2018, the two school presidents signed a memorandum of understanding to conduct an academic exchange program, research activities, and advance the academic career of their faculty and students.
A total of 31 Taiwanese students came to MMSU last year and took the special English language program offered by the Language Center of the College of Arts and Sciences. The program is a month-long course that combined language lessons and cultural immersion.
Gallery