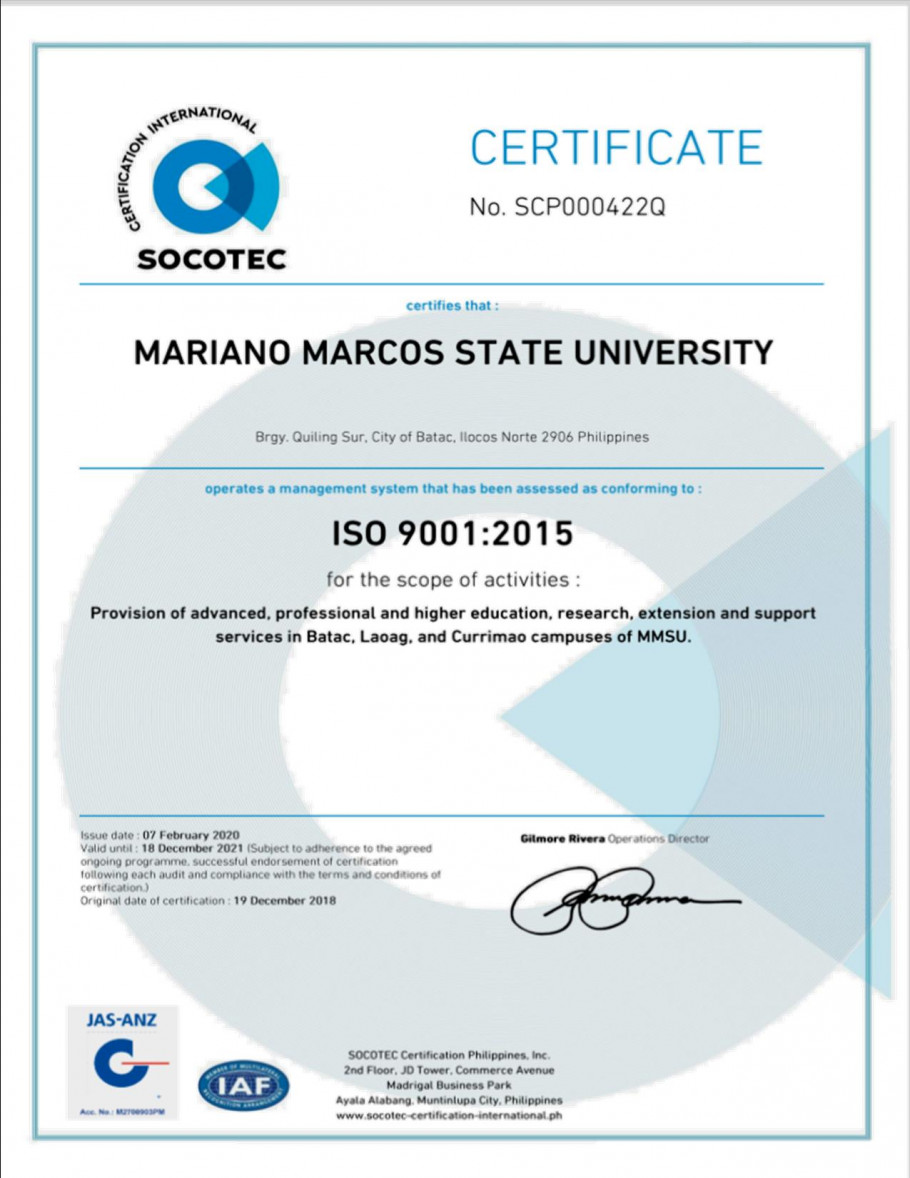 MMSU gets ISO certification
By DANIEL P. TAPAOAN, JR.
The SOCOTEC Certification Philippines, Inc. has awarded the International Organization for Standardization (ISO) 9001:2015 certificate to the Mariano Marcos State University (MMSU), certifying that the university has an effective and efficient quality management system (QMS).
With certificate no. SCP000422Q, the MMSU's ISO 9001:2015 certification covers the university's provision of advanced, professional and higher education, research, extension and support services in its campuses in the City of Batac, Laoag City, and Currimao.
Issued on February 7, the certificate is valid until December 18, 2021, subject to the university's adherence to the agreed ongoing program, to its successful endorsement of certification following a yearly audit and to its compliance with ISO 9001:2015 terms and conditions.
Overwhelmed with joy, MMSU President Shirley C. Agrupis exclaimed that all efforts of the university constituents for the university's bid for ISO certification had finally paid off.
"This is due to the concerted efforts of all units, a proof that if we work harmoniously and conscientiously, we can make things possible in just a short span of time," she beamed.
The original date of certification was December 18, 2019. However, the auditing body raised minor nonconformities of MMSU, prompting the latter to submit its corrective action plans within 30 calendar days.
Dr. Agrupis also thanked the Development Academy of the Philippines (DAP) for providing MMSU training and technical guidance, which made the ISO 9001:2015 certification possible.
MMSU is one of the 19 government agencies assisted by the DAP in developing their respective Quality Management Systems certifiable to the ISO 9001:2015 standard in 2019.
The QMS is one of the mandates of the government through Executive Order 605, s. 2017, which seeks to promote and enhance public sector performance through the adoption of international standards.

Gallery